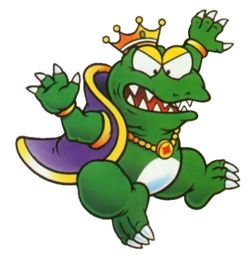 Wart (Mamu in Japan) is a fictional characterthe in Nintendo's best-selling Mario franchise. He plays the role of final boss in Super Mario Bros. 2, and Yume Kōjō: Doki Doki Panic, the game from which it is derived. Wart is a fat, toad-like creature, with a crown on his head and a robe that can scarcely conceal his big belly. He is voiced by Charles Martinet in Super Mario Advance. Wart appears in the comics "Cloud Nine" and "Tanooki Suits Me" published for the Nintendo Comics System, his character design resembling an alligator rather than a frog in the former story. Wart also appeared in book six of the Nintendo Adventure Books, titled Doors to Doom. There, though, he appeared as a skateboarder who ended up helping the Mario Brothers during their current plight. Under the name "Mamu", Wart also appeared in The Legend of Zelda: Link's Awakening to teach Link the third Ocarina song. Wart is also alluded to in Super Paper Mario.
Ad blocker interference detected!
Wikia is a free-to-use site that makes money from advertising. We have a modified experience for viewers using ad blockers

Wikia is not accessible if you've made further modifications. Remove the custom ad blocker rule(s) and the page will load as expected.