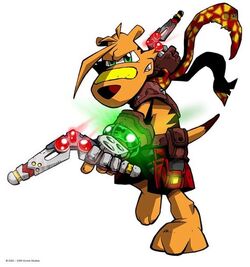 Ty the Tasmanian Tiger (most commonly referred to as Ty), is the main Protagonist of the Ty the Tasmanian Tiger series. He has appeared in each of the series' three games. He starts out as an orphan in the first game, and ends up very well known and popular in the end of the third game. In real life, the creature is a Thylacine, which is an extinct species of marsupial.
Background
Edit
Ty was originally thought to be an orphan in the events that took place before the first game and was raised by The Bilbies, who are small,blue Marsupials who live underground.In the beginning of the first game, Ty falls down a chasm while playing with one of the bilbie boys and discovers the The Bunyips . Who are large, half-spirit,half-mechanical creatures who tell him that his parents were imprisoned by Boss Cass. At the end of the game, Boss Cass is taken to prison and Ty's Family is set free. In Ty 2 and 3, his parents set up a shop in Burramudgee where the player can by more Boomerangs.
Ad blocker interference detected!
Wikia is a free-to-use site that makes money from advertising. We have a modified experience for viewers using ad blockers

Wikia is not accessible if you've made further modifications. Remove the custom ad blocker rule(s) and the page will load as expected.