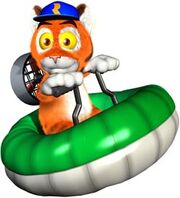 Timber is a fictional character in Nintendo's Donkey Kong franchise, first appearing in Diddy Kong Racing. His parents left him in charge of their home island. Wizpig later invaded the island, prompting Timber to call upon the help of his friends who took on Wizpig's challenge to race for the island. He rides green vehicles with middle-class speed and acceleration. He controls very similar to Diddy Kong and is ideal for starter players.

Timber may also have been set to make a reappearance in the cancelled game Donkey Kong Racing; as Taj the Genie, a character from Diddy Kong Racing was going to appear in it. It is unknown if Timber was going to appear in Diddy Kong Racing's canceled Game Boy Advance sequel, Diddy Kong Pilot.
Timber has appeared in the Nintendo DS game Diddy Kong Racing DS. He seems to have an Australian-like accent in this game.
Due to Microsoft buying Rare, Timber's hat now has the Nintendo logo on it, similar to Diddy Kong. However, artwork in the Diddy Kong Racing DS manual depicts the Nintendo DS logo on his hat.