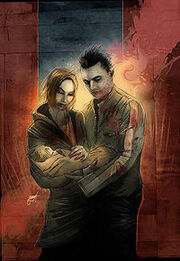 Stella Olemaun is a fictional character in the comic 30 Days of Night created by Steve Niles and Ben Templesmith.
Character bio
Edit
Stella Olemaun is the wife of Eben Olemaun, the sheriff of the small town of Barrow, Alaska. When the vampires attack Barrow, Stella is among a small group of survivors led by Eben.
In the sequel, Dark Days, Stella publishes a book about the events in Barrow. This gets the attention of the Los Angeles vampire population. Learning that there may be a way to bring back Eben, Stella strikes a deal with a vampire named Dane. The two form a brief romantic relationship. Stella exchanges proof of the existence of vampires for her husband's remains, in the hope of bringing him back from the dead. She double crosses the vampire party, blowing up a large number of them in a house, before successfully resurrecting Eben. She is reunited with her husband who goes for her throat turning her into a vampire.
In the 30 Days of Night film adaptation, the character's name was changed from Stella Olemaun to Stella Oleson. In the movie she was a fire marshal in Barrow and the estranged wife of sheriff Eben Oleson. During the attack she worked with Eben to survive the month. She was portrayed by actress Melissa George.
Appearance
Edit
Stella Oleamaun has appeared in four of the 30 Days of Night comics.
30 Days of Night
30 Days of Night: Dark Days
30 Days of Night: Return to Barrow
30 Days of Night: Eben and Stella
Ad blocker interference detected!
Wikia is a free-to-use site that makes money from advertising. We have a modified experience for viewers using ad blockers

Wikia is not accessible if you've made further modifications. Remove the custom ad blocker rule(s) and the page will load as expected.