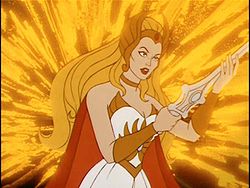 She-Ra is a fictional character and the heroine in the series of toys produced by Mattel called She-Ra: Princess of Power. She is the alter ego of Princess Adora and also the twin sister of He-Man (Prince Adam). She appears in the cartoon She-Ra: Princess of Power, which was an attempt to make a version of the He-Man and the Masters of the Universe cartoon series that would appeal to young girls in the same way that He-Man appealed to young boys.
Fictional character biography
Edit
She-Ra is introduced in the animated movie The Secret of the Sword as Force Captain Adora, an agent of the Evil Horde that rules the planet Etheria. However, she then discovers that she is the long-lost twin sister of Prince Adam of Eternia, having been stolen by the Horde's leader, Hordak, as a baby. In the same story, she is granted the Sword of Protection, which parallels He-Man's own sword (Sword of Power), and gains the power to transform into She-Ra. As Princess Adora, she then joins the rebellion that seeks to free Etheria from the Horde, though only a few other characters know that she is in fact also She-Ra.
2002 She-Ra revamp
Edit
It was rumored that She-Ra was supposed to be reintroduced in the third season of the 2002 He-Man and the Masters of the Universe series; however, the series was canceled after the second season, and thus She-Ra never came to be in the latest incarnation. She did, however, receive an updated action figure to fit in with the new 2002 Masters of the Universe toyline. The 2004 She-Ra toy was an exclusive to the Wizard World Chicago and San Diego Comic Con 2004 comic-book and pop culture conventions.
External links
Edit
Ad blocker interference detected!
Wikia is a free-to-use site that makes money from advertising. We have a modified experience for viewers using ad blockers

Wikia is not accessible if you've made further modifications. Remove the custom ad blocker rule(s) and the page will load as expected.