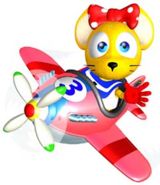 Pipsy is a fictional character in Nintendo's Donkey Kong franchise, first appearing in Diddy Kong Racing. She is a small, yellow mouse. She drives a pink vehicle and is one of the fastest on the track, second only to T.T.
Pipsy may also have been set to make a reappearance in the canceled game Donkey Kong Racing; as Taj the Genie, a character from Diddy Kong Racing was going to appear in it. It is unknown if Pipsy was going to appear in Diddy Kong Racing's canceled Game Boy Advance sequel, Diddy Kong Pilot.
Pipsy appeared in Diddy Kong Racing's Nintendo DS sequel, Diddy Kong Racing DS. She seems to sound more mature in this game like Bumper.
Pipsy would've been a supporting character in the canceled Nintendo 64 game, Timber 64.