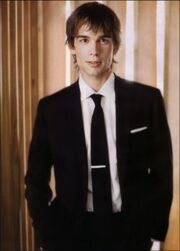 Jake Foley is the main protagonist and titular character of the science fiction TV series Jake 2.0, portrayed by Christopher Gorham. He works for the U.S. government's National Security Agency (NSA) and was accidentally infected by nanobots which give him superhuman powers. He is able to control technology with his brain, making him "the ultimate human upgrade" according to the show's introduction.
Ad blocker interference detected!
Wikia is a free-to-use site that makes money from advertising. We have a modified experience for viewers using ad blockers

Wikia is not accessible if you've made further modifications. Remove the custom ad blocker rule(s) and the page will load as expected.