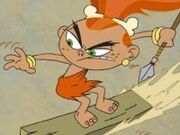 Fang is a fictional character in the short lived cult classic Disney cartoon Dave The Barbarian. She is voiced by Tress MacNeille.
The youngest of the three siblings (and probably the most Barbaric out of all the family), Fang (nicknamed by bugs as "The Great Destructor") is a very rambunctious and uncivilized girl who loves to smash things. She resembles a cross between both Pebbles and Bamm-Bamm of The Flintstones and is the victim of a running gag where she is often mistaken for a monkey, hence her catchphrase, "Not a monkey!" (However, during the fight against Chuckles and the Vermites, just after receiving the insult, she jumps on a bunch of bananas shouting as a monkey). There was also this one episode where she genuinely thought she was a monkey when she was taken in by a society of monkeys who look just like her.
She is too small to fight most of the time and resents Dave (who is very strong) because of his cowardice. Like her Uncle Oswidge, she secretly likes to play with dolls, but doesn't like people to know. In one episode where the castle is being destroyed, she cries "All my dollies are in there!" then quickly tries to cover up what she just said. Fang wields a spear in combat.
Ad blocker interference detected!
Wikia is a free-to-use site that makes money from advertising. We have a modified experience for viewers using ad blockers

Wikia is not accessible if you've made further modifications. Remove the custom ad blocker rule(s) and the page will load as expected.