Evil Crash is a fictional character in the Crash series. He is an evil version of Crash Bandicoot from the 10th dimension.
Crash Twinsanity
Edit
Evil Crash was first seen in Crash Twinsanity when Crash, Doctor Neo Cortex, and Nina Cortex warped to the 10th demension and he took Nina captive. Later, in the end of the game, he found the Evil Twins when they got stuck inside his house and he ate the two of them.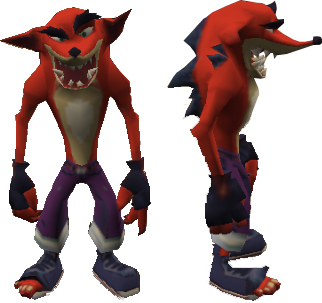 Evil Crash was originally going to be a playable character in Crash Tag Team Racing (not just a skin for Crash).
Appearances
Edit
Ad blocker interference detected!
Wikia is a free-to-use site that makes money from advertising. We have a modified experience for viewers using ad blockers

Wikia is not accessible if you've made further modifications. Remove the custom ad blocker rule(s) and the page will load as expected.