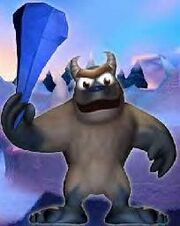 Bentley the Yeti is a fictional character in the Spyro the Dragon series.
Bentley is a Yeti who made his debut in Spyro: Year of the Dragon and reappeared in Spyro Orange: The Cortex Conspiracy and Spyro: A Hero's Tail. His main weapon is a huge club, presumably made out of crystal, with which Bentley can manipulate with ease, both for offense and defense. In "Spyro: Year of the dragon", he resides in his outpost in the Forgotten Worlds. In "Spyro: A Hero's Tail", he has since moved (temporarily or otherwise) to Gloomy Glacier, in the Dragon Worlds.
In Spyro: Year of the Dragon, Bentley appears to be a very learned creature, shown through his elaborate and accurate use of language. He also appears to be a rather humorous (that or very prone to laughing) Yeti, as shown by his section of the end sequence when he and Spyro re-enact the ending sequence of Spyro the Dragon, when he is keeping Hunter and Bianca's love a secret from Spyro. Unsurprisingly, he has quite a loathing of Sir Moneybags (as he is the one who kept him locked in a cage) and the Sorceress (the main Villainess of that game).
In "Crash/Spyro: Fusion", he appears as an unlockable card.
In Spyro: A Hero's Tail, Bentley does not retain the language he had in his previous speaking role. In fact, fans have criticized the makers for making him 'too dumb'. He appears once in the game, aiding Hunter when he is in Gloomy Glacier.
Bentley has a little brother called Bartholomew. It is assumed that he can be annoyed by Bartholomew's behavior but, like a big brother should, Bentley still cares deeply for his brother, and will stick up for him when Bartholomew asks him to. Some hidden voice clips prove Bentley really loves his little brother, and will always make sure he's out of harms way.
Ad blocker interference detected!
Wikia is a free-to-use site that makes money from advertising. We have a modified experience for viewers using ad blockers

Wikia is not accessible if you've made further modifications. Remove the custom ad blocker rule(s) and the page will load as expected.