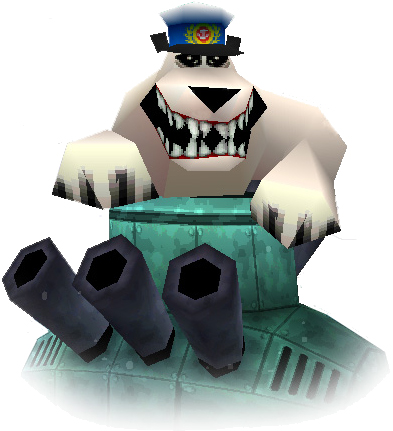 The Bearminator is a fictional character in the Crash series. He is a giant polar bear with a blue captain's hat and a submarine that appears in Crash Bash. He is the second boss of the game and takes three hits. He shoots robotic bears and you must charge them off of the platform in order to defeat them. He then fires a missile, that you will pick up, and you must target him right while he moves in a first person sniper rifle targeting screen. After three hits, he will be defeated and flop over apparently unconscious or dead.
It was rumored that he was one of the Giant Bears from Crash Bandicoot 2: Cortex Strikes Back, minus the hat and technology, however, this has never been proved true.
Ad blocker interference detected!
Wikia is a free-to-use site that makes money from advertising. We have a modified experience for viewers using ad blockers

Wikia is not accessible if you've made further modifications. Remove the custom ad blocker rule(s) and the page will load as expected.