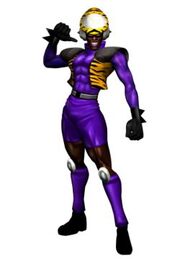 Baba is a fictional character in Nintendo's F-Zero franchise.
Biography
Edit
This "wild child" was born and raised amid the natural beauty of Giant, a planet with expansive tracts of green land. He has preternatural animal instincts and a resilient, well-toned physique, both of which factored into his recruitment by the F-ZERO Pilot Selection Committee. He left his home and underwent a great deal of training in order to make his F-Zero Grand Prix debut last year. He didn't win, unfortunately, and knowing he still had much to learn, he set out on a spiritual journey. As a result, his physical strength has increased twofold. However, he is also a bit overconfident now and is considered somewhat of a big-mouth.
Baba also appeared in F-Zero: GP Legend as a member of the Dark Million organization.